Shared by Woodside Elementary Teacher, Peter Dargatz.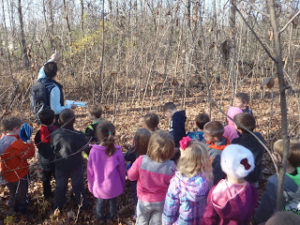 The 2016-2017 school year marked the beginning of a creative collaboration between the staff and volunteers of the Retzer Nature Center and the nature kindergarten program at Woodside Elementary in Sussex. Over the school year,  eight experiences were split between the nature center grounds and the elementary school's outdoor learning area.
Following the natural cycle of the seasons and connecting to the school's curriculum, the students engaged in hands on experiential learning opportunities that built on prior lessons, culminating in a special nature celebration event in June where families were invited to the Retzer Nature Center to experience their child's growth firsthand. Through parent surveys sent out by Woodside's kindergarten team, the collaboration was very well-received by the families. Both staff at Retzer and Woodside look forward to not only continuing this collaboration, but hopefully expanding it as well.